Friday, 17 December 2010
Serbian FIU representatives took part in the 13th Euroasian Group on Combating Money Laundering and Terrorist Financing held in Moscow, Russia, from 13-16 December 2010. EAG was established on 6 October 2004 at the initiative of the Russian Federati ... ...
More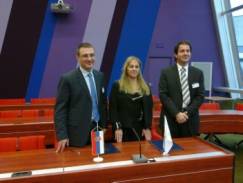 Thursday, 9 December 2010
Administration for the Prevention of Money Laundering has signed a Memorandum of Understanding with the financial intelligence unit of the Republic of Cyprus, which formalizes the cooperation of many years, and creates conditions for a better and eve ... ...
More
Wednesday, 8 December 2010
The Council of Europe's expert committee MoneyVal, whose work is based on a system of mutual evaluations of its member states, adopted in December 2009 a detailed assessment report on the actions and measures undertaken by the Republic of Serbi ... ...
More
Friday, 26 November 2010
Delegation of APML, headed by its Director, Aleksandar Vujičić, was in the official visit to the Uzbek FIU, in Tashkent, Uzbekistan, 15-19 November 2010. The visit was arranged in cooperation with OSCE, for the purposes of preparing Uzbek FIU for E ... ...
More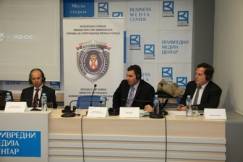 Friday, 19 November 2010
Organized by Belgrade Chamber of Commerce, and supported by the Administration for the Prevention of Money Laundering, on 18 November 2010 a seminar was held on anti-money laundering and compliance, but from a perspective of the world famous consulta ... ...
More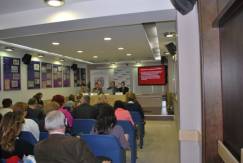 Thursday, 4 November 2010
On 3 November 2010 OSCE, APML and Serbian Bankers' Association organized a seminar on the prevention of terrorist financing for financial institutions Mr. Jeffrey Breinholt, attorney with the United States Department of Justice National Security ...
More